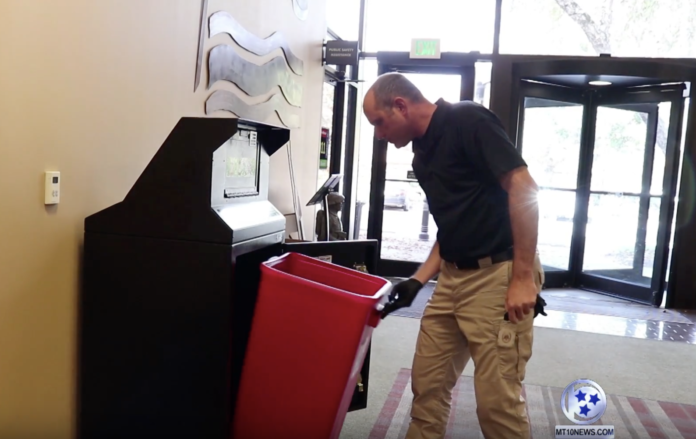 A pharmacist and a police offer have a lot more in common than you might think: both are on the front lines of fighting the growing opioid epidemic locally.
Pharmacist Phil Todd Garret, who owns Franklin Family Pharmacy in Franklin said, "When somebody starts an opioid, they– most of the time– had an injury, or surgery, or got into a car crash."
Brentwood officer Bill Reape is responsible for the disposal of all unused medications dropped into a secured box.
"The first time I emptied the pill take-back box located in our lobby until now," Reape said, "we did 820 pounds."
Reape said your medicine cabinet at home is a target in burglaries and should be secured. "We try to get the word out there that having them (medications) there in your house is probably not a good idea. It is a target for people."
Garret describes an opioid as, "a medication that is used to block pain. Most often it's used after surgery when somebody's in a lot of pain. It works on mute opioid receptors and it basically just blocks pain signals."
He said that not many people get addicted– but some do. "(For) other people, it hits a reward pathway in their brain, and that's what leads to addiction most of the times."
Garret advises all of his patients to use small amounts of opioids, and reminds them that there are alternatives. "My role can be to say, 'Hey, use as little or none of this if possible. Tylenol or Ibuprofen if that's okay with your doctor.'"
Both professionals want to see everyone do the responsible thing.
"If you've got anything that's expired or unused in your medicine cabinet," said Reape, "you can find these 24/7 collection agencies."
"If your community is having a Drug Take-Back Day," said Garret, "you should absolutely participate in it."
Take-back events happen twice a year in Brentwood. Almost 5,000 law enforcement agencies nationwide participated in the last Drug Take-Back Day earlier this month.
Austin Thompson reporting for MT10 News